The long-rumored Google Pixel Watch could be on the way. Since Google has thrown its efforts behind a new version of Wear OS with features from Tizen and Fitbit, it seems poised to release hardware to match.
If Google does have a Pixel Watch planned, it could take on the Apple Watch 7, Samsung Galaxy Watch 4 and all the other best smartwatches on the market.
Although Google has previously shot down speculation about in-house smartwatch, a number of patents and acquisitions in the wearable space (ahem, Fitbit) point to the Pixel Watch debut being a matter of when, not if. Plus, an increasing number of rumors claim it is definitely real and could even arrive within a few months.
Google also knows smartwatches and fitness trackers comprise one of the fastest growing consumer tech categories. It would be wise to put out a model of its own out as an accessory for its Pixel smartphones, like the Google Pixel 6 and Google Pixel 6 Pro.
So when will the Pixel Watch arrive? And what will it look like? What features will make it stand out? Here are all the rumors we know about the Google Pixel Watch's release date, price, design and more. And check out our Google in 2022 article for more future-gazing.
Google Pixel Watch news (updated January 5)
Google Pixel Watch possible release date
Rumors of the Google Pixel Watch's existence have been circulating for years, but until recently there's not been much speculation about exactly when it might arrive.
That all changed last year, when noted leaker Jon Prosser released a bunch of alleged Pixel Watch renders and claimed the device would launch in October. That led to speculation that Google's Pixel 6 launch event would see the reveal of the Google smartwatch, but obviously that didn't happen.
The latest rumors both point to it being with us this year, though. First, a tweet by Prosser just before the Pixel 6 event claimed Google will launch the Pixel Watch in early 2022. Then, a more detailed report by Insider, quoting a source familiar with the project, stated that the Google Pixel Watch could finally arrive in 2022.
Google Pixel Watch price speculation
How much will the Google Pixel Watch cost? Not as much as an Apple Watch, if we had to guess. There aren't many Google Pixel Watch cost leaks to reference, but we'd place it in the mid-priced category. The Apple Watch Series 7 and Galaxy Watch 4 start at $399 and $249 respectively, so we'd expect Google to try and undercut these two watches slightly.
It won't be the cheapest option on store shelves, but it could fall in the $200-$350 price range depending on size and LTE variants. Again, this is just speculation based on what we know about Google's pricing strategy for the rest of its hardware division. Insider reports the watch will cost more than a Fitbit, though.
Google Pixel Watch design
We first received a realistic glimpse at the Google Pixel Watch design when Job Prosser tweeted a leaked render of what he claims is the Pixel Watch back in April, showing off a rounded design with what appears to be a physical crown.
The leaker more recently shared a series of official-looking Pixel Watch marketing images. The images tease a wearable with a round face with a bezel-less display that seems to curve around the edges of the smartwatch. On the right-hand side, there's a single crown that looks set to offer the only physical controls for the watch.
As such, the Pixel Watch looks set to be a rather clean and minimalist smartwatch, somewhat in keeping with the design of other Pixel devices. Interchangeable bands, meanwhile, would offer wearers a bit of customization.
We have seen some awesome concept art, too. These images come from designer James Tsai. Inspired by the company's "Made By Google" devices, Tsai delivered a playful set of renders that even have Google-esque names like "milk white", "sweet papaya" and "boba black."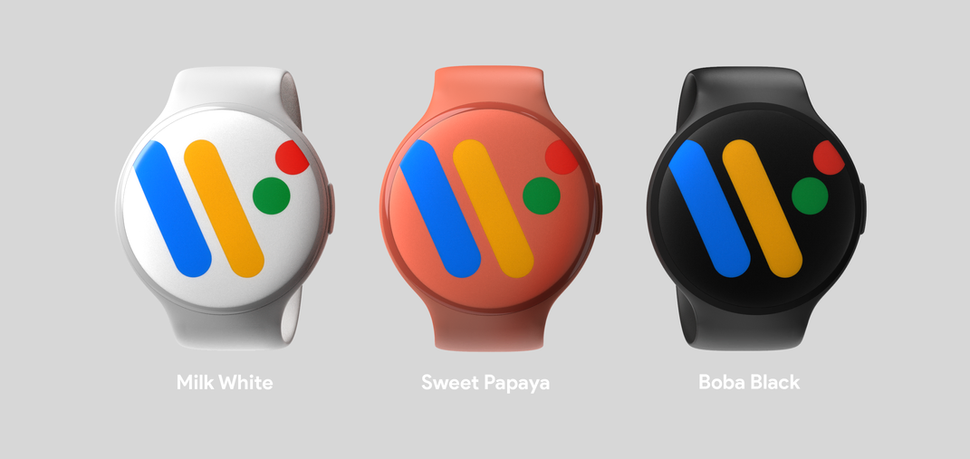 Google Pixel Watch specs
German publication WinFuture reported that Google is working on three Pixel Watch models, code-named Ling, Triton and Sardine. However, Insider's more recent report instead speaks of the overall project being known within Google as "Rohan."
Exactly what these Pixel Watch code names mean, however, is unknown. It seems plausible, given the names, that the devices will come in different sizes, and possibly different specs.
One could be lifestyle focused, making use of the $40 million of Fossil's smartwatch technology it acquired last year. Another could become one of the best fitness trackers, benefiting from Google's ownership of Fitbit.
On that note, it's worth casting a glance at this report from ET News which states Google has placed a large order for body movement tracking sensors from Samsung. Those, in hand with Qualcomm's latest smartwatch chip and rumors of on-board storage and LTE connectivity, could make for a well-specced Pixel Watch.
Google Pixel Watch Wear OS
This one is no surprise, but Google will bundle its own Wear OS platform in the Pixel Watch. But what could make the software different or, should we say, better?
Popular Wear OS features on third-party smartwatches from TicWatch and Fossil include continuous heart-rate monitoring via Google Fit, contactless payments with Google Pay and hands-free Google Assistant access, plus a Google Play smartwatch store. In the past, these features didn't absolve Wear OS's flaws, but the newer version of Wear OS worked great on the Galaxy Watch 4.
We should get a better sense of what Wear OS without Samsung's own integrated UI looks like when new Wear OS-eligible smartwatches are updated in early 2022.
Insider's report, meanwhile, suggested the Pixel Watch will have basic features including step counting and heart-rate monitoring. It also claimed that Google's acquisition of Fitbit may result in some type of Fitbit integration with Wear OS; that integration is reportedly codenamed "Nightlight".
A separate report from 9to5Google shows how the Google Pixel Watch could integrate Fitbit fitness tracking across various watch faces. One of the watch faces in the Wear OS 3 video goes as far as to include the Fitbit logo alongside a running tally of stairs climbed and total calories burned.
The bottom line is that Google's software is evolving and getting better. One of our editors really likes Wear OS and has some ideas for Google on what he wants from a Pixel Watch.
Google Pixel Watch vs Apple Watch
The Google Pixel Watch could potentially beat the Apple Watch at its own game, but it's going to take a serious commitment from Google and some killer features. This would include a stellar Wear OS experience that's intuitive and offers a wide array of great apps. Google would also need to leverage Google Assistant and its advantages over Siri right on your wrist while also offering seamless integration with other Google services like Gmail, Google Photos and Google calendar.
When it comes to health tracking, the Pixel Watch will need to build on its Fitbit acquisition and create a fitness wearable that beats the Apple Watch on sensors and workout tracking. The Fitbit Daily Readiness Score and Active Zone Minutes are two particularly great features.
Last but not least, the Pixel Watch will need competitive pricing and longer battery life than the Apple Watch to truly win.